This blog is intended as a place to discuss methods and projects using EWBs, or Electronic Whiteboards, TBIs or Tableaux Blancs Interactifs in French. The folks who responded on the E-Twinning forum are using a wide range of different EWBs, from Smart, to Interwrite, Hitachi, Promethean, or in my case E-Beam.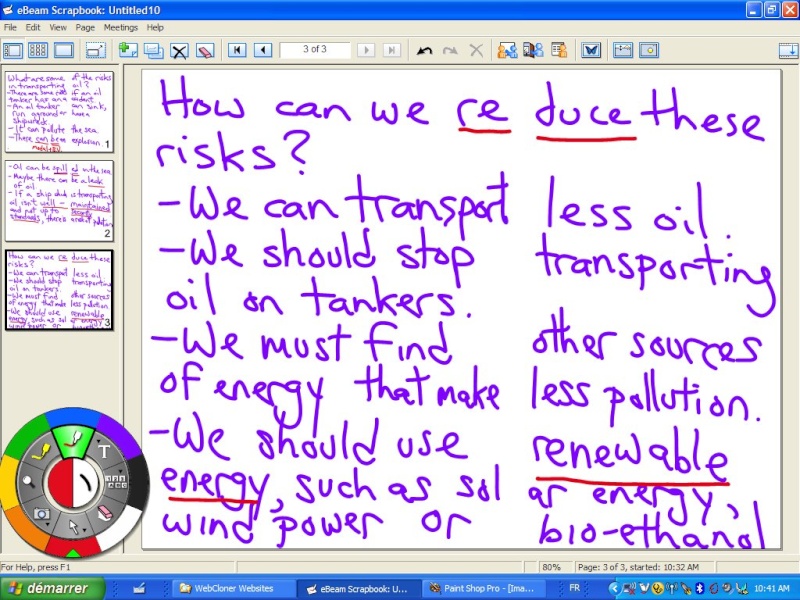 Regardless of which brand of EWB we're using, many of the techniques will be the same. The key functions of an EWB are to:
1) present information to a class, in the form of webpages, word files, hotpot exercises, powerpoint presentations, videos, images and so on, and
2) pilot the program from the whiteboard, using the stylus as a mouse, and
3) annotate projected materials by writing on top of them, filling out forms, taking notes on student production, and so on.
Of course there are many other things you can do with an EWB, some of them being specific to a specific manufacturer's EWB interface, and others being possible regardless of the specific interface you've got. I'll be presenting some of the activities I've used in the last 2-3 months that I've been using the E-Beam, and I hope that all of you will jump in and present some of the things you've been doing.
A few words about using a blog: I'll be adding your names as co-authors, which means that you'll be able to add content, pictures, videos and so on. One of the other members suggested setting up a shared google docs space to share worksheets, demos and other files, and that will be good too. Eventually, I expect we'll register this project with E-Twinning.
Just a
short link to one of my earlier posts
about EWBs, specifically the E-Beam.
This example was something I used in a separate
E-Twinning project called "Saving Our Planet"
, and I'm sure I'll talk more about that soon. In the meantime, please respond to this message and introduce yourselves. Me, I've been teaching English in France for a little over 15 years, and doing project-based learning and web project for some ten years: a lot of WebQuests, as well as various international collaboration projects. We are going to have a very diverse group here, and I look forward to working with you.
Cheers, --- Phil